How To Keep Ants Miles Aways From Your Home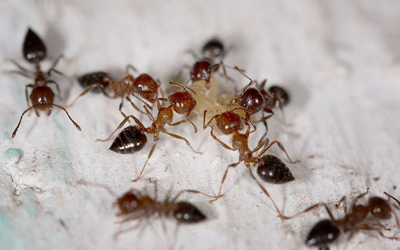 Ants are known for creating a lot of nuisance in homes and offices. They are mostly found in kitchen and bathroom areas. There are a wide range of solutions that can remove ants from your property but you need an effective solution for permanent solution. You need expert help to prevent them once and for all. If you are struggling with ant infestation, it is advisable to call experts for permanent solution. However there are some solutions that can control ant infestation initially in your homes.
Make sure all your kitchen counters are clean from any kind of food particle. Also, keep the sugar and honey in sealed containers.

If you see ants colony, spray some soapy water on them to prevent them.

Cucumber slices can also help in keeping the ants away from your property. You can keep the slices on the entry points.

You can also keep a mint tea bag or dried mint leaves to prevent ants colony. Ants don't like the smell of mint and will stay away from your property.

Pepper, lemon juice, cinnamon are also some of the effective ant deterrents.

Create a mix of borax, sugar and water together. Now soak some cotton balls and put them in a container and let the ants have access to the balls. It is a great bait to kill the ants.
If there are ants on the deck, you can put garlic pieces between the cracks to keep them at bay.
All of the above methods will help prevent ants from your property. If you think that the infestation is beyond your control, make sure you call our ant exterminators at Oakville Pest. Our professionals provide effective and reliable ant removal services. We get the job done right every time.