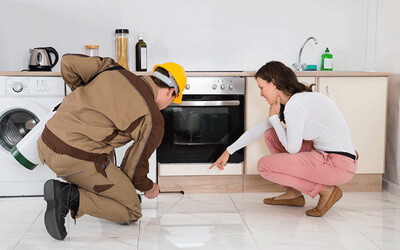 Oakville Pest is one of the leading pest control and removal services in Oakville. Our company was established with one aim i.e. to provide our clients with effective, reliable and affordable pest control services. We know that sharing your home with spiders, bed bugs or cockroaches would be the last thing you will ever think of. But, sometimes you just can't stop them from taking up your residence. This is where we step in. With our wealth of experience and expertise, we know how to prevent these pesky pests away from your home or business.
We have a team of licensed pest exterminators who are committed to keeping your property safe for you and your family. Our experts use a variety of methods to ensure that the pest removal job is done in the most efficient and professional manner. We are competent to eradicate any type of pest from your place including ants, cockroaches, spiders, mice and rat and many more. Customer satisfaction is our top-most priority and we can go the extra mile to achieve it.
Mission Statement
With our precise and knowledgeable approach we strive to meet our client's requirements. Our extensive experience enables us to deliver nothing but the best pest control solutions at affordable prices. We endeavor to offer long-lasting results in less time. With our non-toxic and Eco-friendly solutions, we give you a safe and pest-free environment.
Our Comprehensive Services:
We provide extermination and removal services for a wide range of pests. Our services include:
Cockroach Extermination Services
Flea Extermination Services
Rat and Mice Removal
Ant Extermination Services
Spider Control & Removal
Bed Bug Extermination Services
Why Hire Oakville Pest?
There is a special rapport between our professionals that enables us to deliver high quality and durable solutions on time and budget.
Our latest technology, advanced equipments and quality products all combine to provide quick and effective results.
Qualified, licensed and experienced exterminators to completely prevent infestation and ensure zero future infestation.
Providing a wide range of pest removal and management services at highly competitive prices.
We treat pests with non-chemical and environmental-friendly solutions.
To know more about our company, feel free to give us a call at 289-856-1004