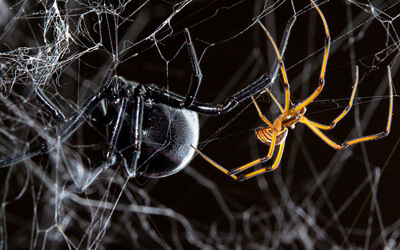 Spiders are gross. They are creepy. They are crawly. And we want to get rid of them as soon as we find them. At Oakville Pest, we offer an effective and safe spider control solution for homes and workplaces throughout Oakville. We guarantee a lasting and harmless solution to our clients. Here's what you can expect from our spider control services:
Used by 1000's of Oakville families
Safe and effective
No odor
Professional industry only products
Guaranteed
Works faster and longer than DIY products
Harmless to pets
Peace of mind
Types of Spider We Remove
Black Widow Spiders
Brown Recluse Spiders
Common Household Spiders
Jumping Spiders
Long-bodied Cellar Spiders
Wolf Spiders
Our Spider Removal Process in Oakville
Determine the type of spider.
Inspect your property properly including your yard, attached & detached structures, driveway and home.
We will treat the spider-nests outside your foundation to safeguard your home.
Physically remove webs from the outside and inside of your home.
Seal all the entry points to prevent further infestation.
Place "sticky traps" on the interior to monitor activity.
The best way to exterminate spiders from your property is to call our experienced spider extermination company: Oakville Pest. We strive to be the best spider exterminators in Oakville by offering quality customer service. We care about our customer, their property and pay due attention to their requests. Our professionals tailor our solutions to make sure you get the best results.
We practice safe spider pest control methods, whether it be through the use of spider repellent, spider traps or spider spray. Our methods are effective and safe for your family and pets. If you spot a hobo spider, black widow or wolf spider in or around your house, call us now or request a free estimate for spider extermination. Let us show you how to get rid of spiders the easy way!